Why Pop!_OS has become one of my favourite Linux distributions, and why I will now recommend it to beginners - 14/10/21
Recently I have been involved in a lot of "distrohopping" on my Desktop PC, I had gone from originally using Ubuntu as my daily driver to deciding and alternating between Debian and Arch Linux. I found both distributions to be great for differing reasons:
Debian:

Extremely stable
Uses GNOME 3.38, which I prefer for Desktop PCs (I prefer GNOME 40 on Laptop)
I am familiar with Debian-based distributions already
APT has better syntax than Pacman

Arch Linux:

Rolling release, so there aren't any large interruptions with Major fixed point upgrades
Latest kernel updates
Pacman is faster than APT
arch-chroot is incredibly useful
Extremely minimal system with a low package count
I wasn't satisfied with either Debian or Arch Linux. The main reason I turned away from using Ubuntu was because Canonical had begun to push snaps on their users. Examples of this can be seen with the recent decision to make Firefox Snap default in Ubuntu 21.10. According to a member of the Ubuntu desktop team, Ken VanDine, " (Turning Firefox into a snap) is the first step towards a deb-to-snap transition that will take place during the 22.04 development cycle." This means that we can expect for more .deb applications to be ported over to snapcraft before the release of 22.04 LTS.
I have previously had Pop!_OS recommended to me, however I have typically dismissed it as "another Ubuntu-based distribution", but as I did more research into the distribution I realised this wasn't the case. System76 has made a lot of major and minor changes to the Ubuntu desktop which has completely revitalised Linux for me, and has changed the experience of Ubuntu-based distributions, and Linux as a whole.
OS Upgrade & Recovery
Upgrading between major releases on Pop!_OS is ridiculously easy compared compared to other Linux distributions as Pop!_OS has a specific section within GNOME settings dedicated to upgrading to the latest release. The OS Upgrade panel informs you whether there are any upgrades to perform, allows you to create a recovery partition for your OS and to reinstall the operating system from your recovery partition.
I feel that since Pop!_OS allows the user to easily create a recovery partition without any hassle has allowed for many users to be confident upgrading from one release to the next, and for any issues to be sorted out relatively quickly.
Pop!_Shop
The Pop!_Shop is one of the best graphical application stores I have seen for Linux. Pop!_Shop features an intuitive and modern design that is really responsive. I have found it very easy to find, download and upgrade all of my applications.
Pop!_OS comes with both the APT package manager and Flatpak by default. It is fairly easy to switch which between downloading from the official Pop!_OS repositories and downloading from Flathub. I agree with System76's decision to move towards using Flatpak for proprietary applications, such as Discord, so that we are able to manage the permissions of specific applications.
Proprietary driver support
I have never found installing proprietary drivers too difficult on Linux, however a lot of newcomers to the Linux desktop typically do run into issues. Pop!_OS offers the user two different image files for the distribution, one with proprietary Nvidia support and one without. The option to support proprietary drivers helps to make the Linux desktop easier to use for newcomers as some people typically are not tech-savvy enough to understand how to install a driver on Windows, yet alone Linux.
The COSMIC Desktop
The COSMIC workflow is a set of enhancements, extensions and changes to the GNOME desktop environment and it is without a doubt one of the best workflows I have experienced while using Linux.
COSMIC splits down the GNOME desktop into "Workspaces", "Applications" and the Pop!_OS launcher. I have been using GNOME 3.38 and GNOME 40 as my main desktop environment since I started using Linux almost a year ago as I was a huge fan of the workspace-orientated nature of the desktop, and I am glad to see that the workflow isn't lost with COSMIC.
COSMIC allows the user to customise and tweak the desktop to their liking. It provides the user with a dedicated settings tab for them to modify their desktop. I am genuinely impressed with the level of customisation COSMIC provides, and how easy it is for beginners to customise the desktop. There are so many customisation features that COSMIC provides that I am not able to list them all in this post.
COSMIC allows the user to easily customise and tweak the desktop to their liking. It provides the user with a dedicated settings tab for them to modify their desktop, which is something GNOME should have done a long time ago. I am genuinely impressed with the level of customisation COSMIC provides in comparision to GNOME, and how easy it for beginners to customise their desktop. COSMIC provides the user with so many customisation features that I am not able to list them all in this post. I made some modifications to my keybindings so that I could have a similar experience on COSMIC to GNOME and i3, however I love the default desktop so I haven't changed much else.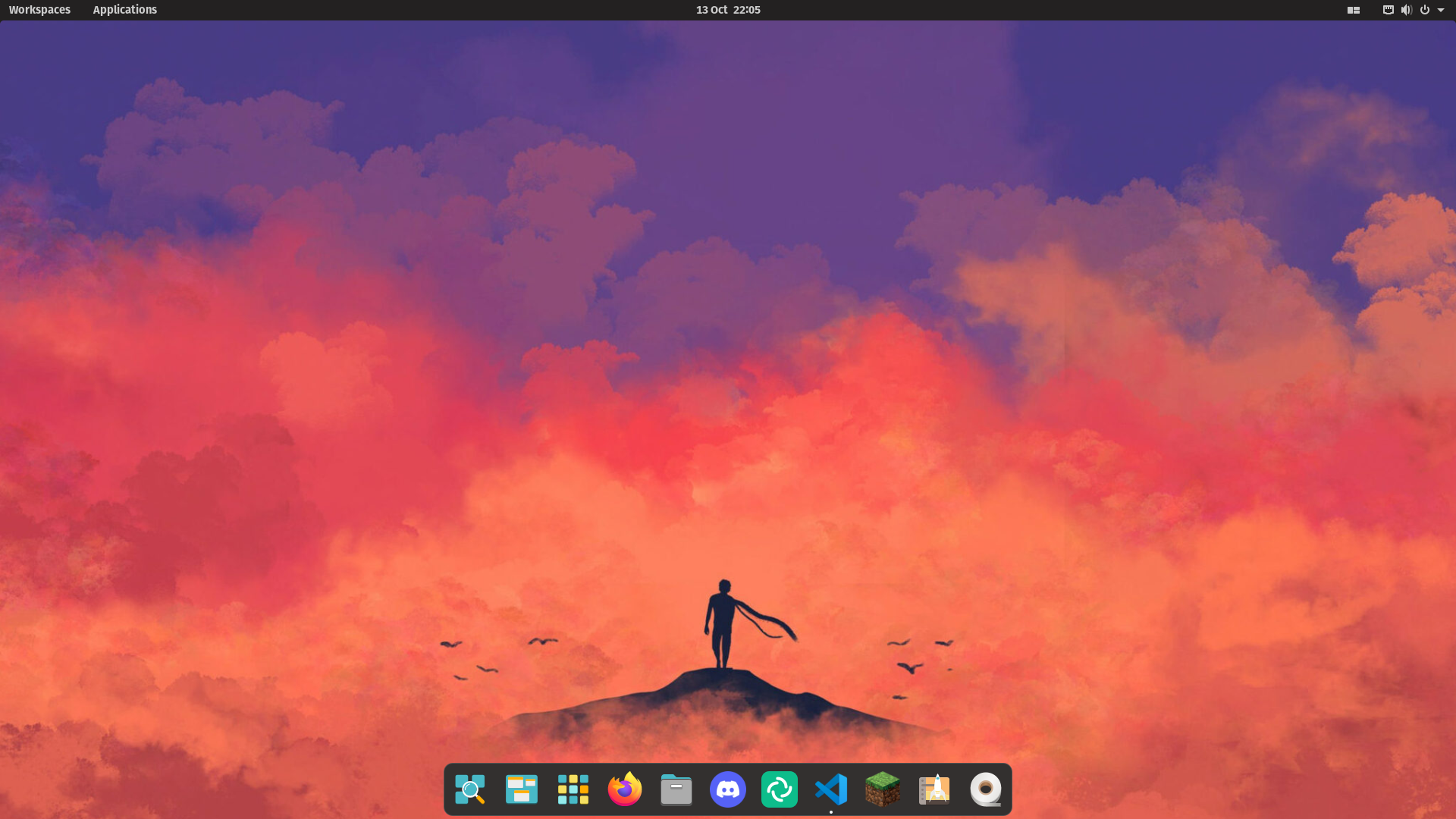 My Pop!_OS COSMIC workflow
Pop Shell is by far one of the most useful features of Pop!_OS. Pop Shell is a keyboard-driven later for GNOME shell which provides tiling window management and sensible navigation features to GNOME. Pop Shell integrates perfectly with the rest of the COSMIC desktop to help provide a well-polished tiling desktop experience.
Pop!_OS' COSMIC has other quality of life changes which make a huge impact on how the desktop operates. Pop!_OS ships with a GNOME extension known as "Desktop Icons NG" which brings back desktop icon functionality to the desktop. If you were to create or move files to your ~/Desktop folder, it will appear on your desktop just like it would on Microsoft Windows or any Desktop Environment with desktop icon functionality.
Pop!_OS restores "AppIndicator" functionality by default with the "Ubuntu AppIndicators" extension. By restoring this functionality it means that applications are able to properly minimise themselves to the system tray.
Personal issues with Pop!_OS
Despite having such a good initial reaction to the distribution, I have experienced a few issues and have a few gripes with Pop!_OS.
The first issue I have is that the launcher is not present in the "Workspaces" overview. I feel like this should be a toggleable setting which would hopefully bring back some GNOME-like functionality. It would be especially useful for users like me who are used to pressing the Super key to launch applications and manage workspaces.
I have also experienced hardware issues on both my own and my friends laptop. My friend had wanted to move to Pop!_OS from Ubuntu however the system kept on freezing within a minute of booting. I later discovered that the issue was potentially caused by them using an NVME SSD.
I was unable to get my laptop's WiFi drivers to work on Pop!_OS 21.04 with my "Intel AX201" wireless card. This issue has apparently spanned across distributions such as Ubuntu, Arch and Fedora. The issue was apparently rectified in a kernel patch on Fedora 34 which leads me to believe that when Pop!_OS 21.10 ships with a newer kernel, the drivers should be able to work again.
Conclusion
Despite some of the flaws and issues I have encountered when using Pop!_OS, I can honestly say that it has become one of my favourite distributions along with Fedora 34. Pop!_OS is an amazing experience both in its visuals and the way it operates.
Pop!_OS is generally quite easy to get started with and is now one of my go-to recommendations for newcomers to Linux and experienced users alike, and I am impressed with everything it has to offer.
---
Sources
Edits
Released post - (14/10/21)
---
Made with ❤️ by MrBeeBenson.